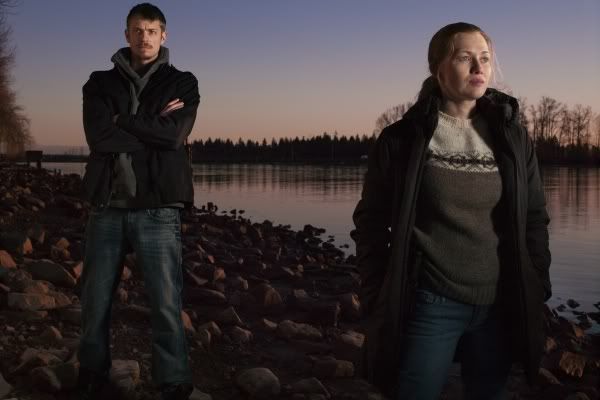 In the wake of myself trying to make changes for the better, I've taken to waking up at obscene hours of the morning and riding the exercise bike. To help pass that time, I've been chewing through TV series on Netflix. So far, I've gone through the second season of "Supernatural" which was quite a bit of fun, but after copious amounts of word of mouth on my various forums and on my twitter stream, I decided to check out the first season of "The Killing" on a lark.
Man am I glad I did!
Of the many things I heard about the show, little of it had to do with the plot itself. I really had no idea what I was in for when I hit play on the first episode. I've heard many comparisons to "Twin Peaks" which lead me to believe we'd be seeing a lot of weird and trippy stuff but that wasn't the case. The show IS reminiscent of "Twin Peaks", but that comparison is due to the show's structure rather than bizarre antics. The entire first season follows the murder investigation of a teenage girl named Rosie who was found brutally assaulted. From there, we watch as this long over arching story unfolds and intertwines the lives of at least four different groups; Detective Li nden and her partner Holder. Rosie's parents who are understandably devastated by the turn of events. A young teacher that was influential in Rosie's life. And finally, a politician running for Mayor of Seattle, who's campaign is oddly roped in to the ongoing murder case.
To put it bluntly; I find the show captivating. The dreary landscape of Seattle is captured pretty masterfully to give the show an underlying current of gloom and doom. This is a great fit as the story is full of gloom and doom. Adding to the depth of the show is the fantastic character development that is going on. Our main character, Detective Sarah Linden is struggling with the case as much as she is struggling with her personal life. You feel that she IS a good detective though, so it's not inept ability that has kept her from solving the case thus far. Even her partner Holden has an air of mystery around him, knowing that he's come from the undercover narcotics division and has a shady manner about him.
The plight of Rosie's parents, played by Brent Sexton and Michelle Forbes, is downright heart breaking at times. They've captured the sense of exasperation that you would expect to come with a family who's had the floor ripped out from beneath them. Sexton who comes from a shady past wants to use his old ways to find closure, but can't bring himself to do it. Forbes wants to care for and help with her family, but can't bring herself out of her deep depression. As a parent, this side of the story is very very effective and helps to make for some gripping moments.
Really, now that I think about it, it's the great character arches that make "The Killing" shine. The plot is straight forward as far as murder mysteries go; nothing crazy or out of the ordinary here. It's the fact that that they peel back a new layer each and every episode on each and every character revealing just a bit more that brings you back each time. Just fantastic story telling all around.
There is not much in the way of gore here, so if you're worried about a show called "The Killing" about a murder mystery being too oogey…it's not very bad at all. In fact, while the events and the effects of said events are truly horrifying…I wouldn't even label "The Killing" as horror. It's a mystery/drama. Actually…it's great TV. That should be enough to get you to watch.
It makes great viewing for my early hours on the exercise bike. When I'm not feeling quite up to getting back in the saddle at 5:30 AM, the promise of the next episode does help to motivate a bit!
Season 2 of the "The Killing" starts up on April 1st over on AMC. Probably not enough time to cram Season 1 in before then if you haven't seen the show yet but trust me…you NEED to see Season 1 first before you dive in! You can count on me having Season 2 sitting on the DVR until I catch up!