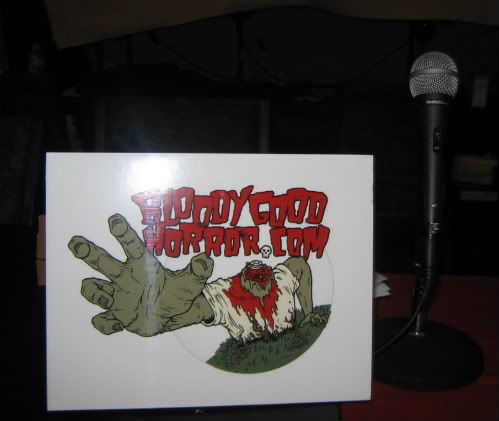 On March 27th 2009, Indianapolis was invaded by denizens of the underworld, descending en mass upon the Marriot East for the latest incarnation of Horrorhound Weekend Indianapolis. Drawn together were many horror movie stars, podcast professionals, fans, and vendors of the weirds and wacky.
The most exciting thing for the weekend, for this horror fan at any rate was that this show was the first 'Official' public appearance of the Bloody Good Horror Podcast! We've been there together this time around, however this time around we were billed as a featured guest and given two tables in the middle of the show floor to allow us to do our thing!
So, we showed up in in force armed to the teeth with recording setup in hand as well as some new banners and merch. We looked pretty top notch I must say and tomorrow's episode should prove to be exciting. Especially with all the nifty bumpers I was able to record with many of the movie stars including the one and only Crypt Keeper, Adrienne Barbeau, Pinhead, Jason Mewes and a few others!
Quite possibly the biggest surprise for this outing was the fact that we found out we actually have fans. We knew we had listeners, we knew some of them liked us, but those cryptic numbers that say we have over 3000 subscribed listeners don't feel like much without the faces behind them. Actually meeting these folks coming to greet you face to face and telling you they listen to your show all the time and love it, well that's just a warm and fuzzy feeling plain and simple.
We managed to get some good recording done and had a blast. We did some heavy duty networking and got the name out there. The Bloody Good Horror beer coozies were quite the hit this year and we even sold out of tshirts!
The last thing a Dominoes Pizza sees:
Louis Fowler
, Myself,
Freddy Morris (Night of the Living Podcast)
So, our first official guest appearance was a rousing success and we really can't wait for the next time. All of us I believe feel quite invigorated over the entire experience and ready to buckle down some quality content. Better warn your earbuds, they're about to be assaulted.
While all that was great, the true highlight of the weekend was getting to see old friends once again, friends that you only get to see maybe once a year. Many people may not be aware of the fact, but there are a ton of horror podcasts out there for you to download and listen to. The best thing about this is that this community is extremely tight knit. Nearly every one of the community is happy and excited to get together and knock back a few beers and just to flat out have a good time. With people such as BrotherD and Miss Bren from Mail Order Zombie making the trek all the way from the west coast; it's a large scale event indeed.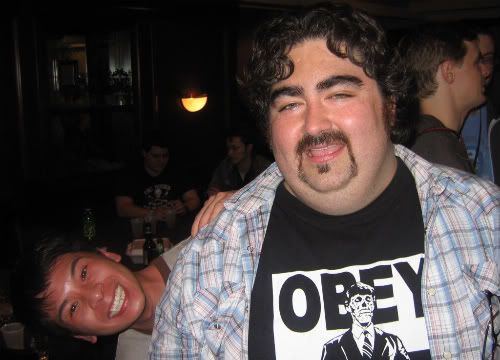 Louis Fowler
,
Andy (Night of the Living Podcast
A gathering of this sort brings together some pretty zany hijinks as you can imagine and this weekend was no slouch. Much beer was consumed and much fun was had. At one point in the weekend, after watching Corey Haim act like a Diva, Louis Fowler and myself took it upon ourselves to try and encourage a classic hollywood style meltdown. I followed in 'C Majors' footsteps as he patrolled the party in hopes of someone recognizing him and loudly introduced myself to everybody we passed with 'Hi! I'm Corey Haim! you may remember me from such films as License to Drive!" Sadly, no meltdowns were seen however a few dirty looks were thrown our way.
As the night rolled on we did manage to see some rare sights. From a carnival freak show barker busting cinder blocks over his crotch with a sledge hammer to random horror stars visiting the convention incognito as a fan, it was a great time. The highlight to the After Party on Saturday has to go to the half hour jam session between Corey Haim and C Tom Mack (singer of 'Cry Little
Sister' in Lost Boys). We got to see Mr. Haim play the bongos, sing an original song, and freestyle rap.
Let that sink in for a second….. Corey Haim, freestyle rapping. Oh yes.
And fear not, the hour and a half of video I took is in the hands of Eric at Bloody Good Horror for editing. You can guarantee it will be posted when done!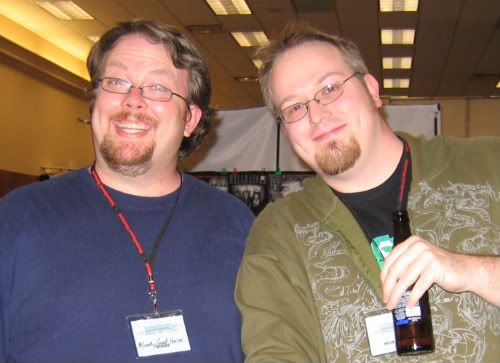 My illegitimate brother,
Bryan Wolford from Drunken Zombie
The other main point to these shows is to get a chance to meet some celebrities, with expectations of nothing more than a friendly handshake and dreams of some networking. After you have become accustomed to seeing many of these actors in person, it sinks in that the majority of them are just down to earth people like you and me. With the exception of the dingleberries such as Haim, most are happy to meet some fans and share a good time.
Throughout my weekend I managed to meet a good number of horror actors and most of them were quite friendly and happy to talk show business. Some I didn't get to talk to as much as I had hoped, some I got to talk to more than I ever dreamed of making the weekend truly one to remember.
For the bad and downright odd:
I really don't need to focus any more on Corey Haim. He's as big of a douche as he portrays on his 'reality' show. Enough said.
John Saxon, star of such classics as "Nightmare on Elm Street" was a bit of a grumpy old man by Sunday afternoon, but I can forgive him of that. He is after all pretty old and had to be worn out. His wife was very polite actually when she explained that they had to catch a flight!
Andrew Benarski, the newest actor to don the chainsaw in the recent "Texas Chainsaw Massacre" remakes his a down right disturbed individual. Standing a solid 4 inches over myself and probably a good 45 lbs of solid muscle; he's pretty damn scary as well. When he is drunk and yelling at folks for taking his picture, it's best to vacate the area.
As for the good, there are many good stories to tell so I'll highlight the best.
Derek Mears plays the newest incarnation of Jason Vorhees in this years "Friday the 13th" remake. The man, while of imposing stature indeed, he's so nice it's hard to find him intimidating again! Very polite and always ready with a smile and a wave.
Adrienne Barbeau is as gorgeous in person as I dreamed she'd be and she's a sweet heart as well. Too busy to spend time chatting, she was always happy to say hello and to shake a hand. She made a point to chat with my daughter Delaney as well about her stint as Ms. Simone in "Scooby Doo on Zombie Island" which made a little girls weekend.
Dan Roebuck has been in hundreds of movies, he's that guy that you'll see his face and say 'I remember him!' I remember him most recently as Leslie Arzt in the first season of Lost (the dynamite guy). This guy is a top notch friendly person as well. He attempted to entertain a nervous looking Delaney with some magic tricks and was always happy to chat. Never rude, never off putting, it was funny to watch him get just as excited over the pro halloween mask exhibit as the rest of us nerds.
To say that John Kassir, voice of the well known and loved Crypt Keeper from HBO's "Tales From the Crypt", is a hero would be an understatement. The man oozes voice talent unlike anybody out there. On Friday night of the show as the floor reached closing time, I saw that there wasn't a line at his table, so I approached to say hello and to grab a hand shake. After a brief mention of my wife and I loving him as Raymundo Rocket on Rocket Power, I soon found myself sitting at his table for another 20 minutes shooting the breeze and talking about various movies he's been in and people he's worked with. I was happy to find out that Mr. Kassir was one of the most approachable celebs I've ever met and was more than happy to sit and chat with a fan. Throughout the rest of the weekend he always had a smile and a nod every time we crossed paths and he helped to make it a weekend to remember. My only regret with John Kassir was not asking him where I could get the awesome Crypt Keeper Hockey Jersey he was wearing! That thing was badass!
.
The final story for Horrorhound 09 is a happy one and pretty mind blowing for this horror nerd writer/former music major. The man pictured above approached our table on Friday night. He looked over our merch table and took one of our business cards, then proceeded to tell me that our stuff looked pretty cool and asked about what we did. I gave him the spiel on our Podcast, our Website. He was highly interested and stuck around to chat for awhile. Extremely friendly and very personable from the get go, we sat and shot the breeze for a good 20 minutes before he decided he wanted to buy a shirt and a beer koozie cause he thought they were so cool. At the time, I didn't recognize his face so thought it was a cool encounter with a future fan.
As the weekend went by, this man stopped every time we ran into each other, genuine in his happiness to stop and talk. He'd ask how the show was going for us, ask if I'd met anybody cool, what all I'd seen, what he'd seen, on and on. We'd cross paths several times on Saturday and later on at the After Party Saturday night.
It was at the after party that I finally asked BrotherD who the older fellow standing off to the side was. BrotherD informed me that the new friend I had made on Friday night was none other than award winning film composer Christopher Young. Chris Young has scored nearly 100 movies such as "Spider Man 3″, "Hellraiser", and many other horror classics. I've been a long time of the man's work but I had never seen his face. I was flabbergasted by my quick brush with greatness and even more taken aback over just how awesome and friendly the guy was! He never did mention who he was and to avoid sounding like a blubbering fanboy, I never did mention to him I found out. He came by the table again on Sunday to show me that he was wearing his super cool Bloody Good Horror t-shirt. He was quite excited by the shirt and loved it! We shot the breeze some more on Sunday. When he asked for my email address and asked for my autograph as well, you can imagine that my Horrorhound 09 was indeed complete.
So, to all you podcasting friends out there, the weekend was great and I loved seeing you all. Many were familiar and some were ones I got to meet for the first time. I had a blast with all of them!
In the meantime, be sure to stay tuned to Bloody Good Horror as we will be publishing our convention show this week as well as some possible video blogs pieced together from my ambitious turn as a film maker. The podcast will have some cool surprises included and it should be a great show all around.
Until the next convention, (Horrorhound Cinnci, I'm looking at you!) I crawl back into my cave to tap away in the glow of a dimly lit LCD screen!