Let's get this out of the way. This movie? It made me giddy. It made me enjoy a night at the theater more than I have in quite awhile. And I go a lot. "Drag Me to Hell"? Loved every minute of it. Sure, it sounds fanboyish for certain and I'll be honest, it really is. At the same time though, getting Sam Raimi back behind the camera for a horror flick is an event worthy of dreaded fanboyism. I'll do my best to tell you why I liked it with minimal squeals and giggles.
There are many types of horror films out there. Some have a slow building brand of fear that gets under your skin, gives you goosebumps. Others aim to repulse you with blood and guts and other disgusting attributes. For "Drag Me To Hell", Raimi dove into his well worn bag of tricks and gave us a jump scare thrill ride that got to even the hardest of horror nerds. The key element to "Drag Me To Hell" is to catch you off guard and startle you quickly and surgically. Kicking it off straight from the opening title screen, they leave no doubt that you'll be jumping out of your chair repeatedly, and they do it pretty damn well. It got me to jump several times. Ask the Mrs.; I'm pretty desensitized to it all.
It was a well publicized fact that this one was going to get the dreaded PG-13 rating and the worry was palpable across the internet. There have been very few *good* PG-13 horror films to come out. Whether it was the fact that it was Sam Raimi, superstar director, causing the ratings boards to slack a bit or the fact that he really is that good, the boundaries of the PG-13 brand of mediocrity was pushed to the edge and perhaps over some. Gone is any bonafide snot-like pus and gore that the man is known for from such classics as "Evil Dead" as well as over the top violence. It wasn't needed though. He still manged to paint a distinct and clear picture as to what happened and in many cases, we still got to see it. For me, what helped him to redefine the PG-13 boundaries was the use of audio to make the viewer uncomfortable. At times it is overly loud which is the point. Dissonant chords swelling into a blasting cacophony forces the viewer to cringe along with our star Alison Lohman. This takes the place of the blood and guts spewing forth for an hour and a half and works well. At other times, the sound is used effectively with the demonic presence that is stalking our starlet making the moments even more unsettling. An all around good show that helped to accentuate the positive in the mix of old fashioned latex and CGI effects.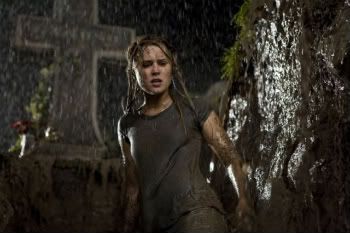 In the acting department, star of the movie Alison Lohman centers herself solidly in a new found role of scream queen. Fully engrossing in her tormented state yet still managing to capture the goofy humor that is a trademark of Sam Raimi horror, she fit in well. The rest of the cast are meant to be not much more that set pieces, but they do quite well. Especially in the case of Lorna Raver, the lady cast in the unfortunate role of Mrs. Ganush, the gypsy lady who gets Lohman in trouble. No offense to Ms. Raver, but she was downright nasty in this flick and the lady fully engrossed herself in the role and did a stellar job. She'll make you feel for her and turn around repel you in disgust in the same breath making the film all the more enjoyable.
An important note to those that have not been indoctrinated to Sam Raimi or the "Evil Dead" series. "Drag Me To Hell" is a cousin to these early films in every way. It is not a straight up serious horror flick. It's not a flick that is meant to make you think or to force you to dig into it deeply. The entire film is there for you to enjoy on the surface and they have only one thing in mind; to make you jump. Repeatedly. At the same time, there is a trademark sense of humor that comes with a Raimi film too and it is present here as well. You're going to laugh. You're going to laugh a lot. It is all a delicate balance and with this movie, it is the perfect example on how to do such a thing well.
"Drag Me To Hell" is a great flick and the best time I've had at the movie theater in quite awhile. I jumped a lot, I laughed a lot. I even enjoyed "Mac Guy" Justin Long. This is a perfect date movie in that I guarantee you that your girlfriend (or boyfriend) will be holding on for dear life through out the film. This is a movie that you definitely want to see in the theater with a large crowd, it ads to the experience.
With all that said, Sam Raimi and Alison Lohman can drag me to hell anytime they want.