As I mentioned in tonight's previous post, this past weekend was spent regaling in the labor day festivities at the Marshall County Blueberry Festival! Imagine if you will, a warm September day, hundreds of thousands of ill tempered people packed shoulder to shoulder in a small community park. Each armed with various forms of such things as meat on a stick, baby strollers, or large over sized and gaudy crafts swung about with wild abandon with nary a thought given to passersby! Such is the experience at the Blueberry Festival, an experience to remember.
For some, the sights and sounds of various entertainments such as live music or tractor pulls are the main draw. For some, it is the bizarre plethora of arts and crafts, most hand made, some resold and all over priced. And still others, it is the large amounts of greasy fair food that is their calling. (Note: Before you call me high and mighty, look at me. I am no stranger to the greasy fair food. It is in fact, my one draw!)
What always fascinates me though is the crafts that are sold about the festival. What passes as a lovely addition to one's home decor is simply astounding. Granted, many of these items, I'm simply not their target demographic. I'll give them that! Still, there are many items that crop up around the park that are simply baffling as to why people may want these!
It is these items that I present to you today, as a small sampling of Midwestern Horror, straight from my heartland to yours!
Ah Shrek, that lovable bumbling troll that has entertained our kids for years now! Except here, he looks a bit hungry and rather pissed off. Not sure about you, but if I was a youngin' and my mom said, "here, let's go on this ride!" My response would be of the order of, "Uh, sure you first!"
Sure the pooch is cute, the phrase is…a phrase. The context? Yah, I don't know either. If you look close, you'll see that this little beauty sells for a measly $15 as well! A bargain indeed!
I like bears, I look like a bear, I've played the bass for many many years. Still, not sure how the two tie together! The leigh and grass skirt are a nice touch though.
This? I'm clueless. Somewhat offended. It was proudly displayed on the front of the stand however!
I'm no baseball fan. I'm certainly not a big cubs fan. This seems a bit harsh though. Maybe I'm getting old, but I don't get it.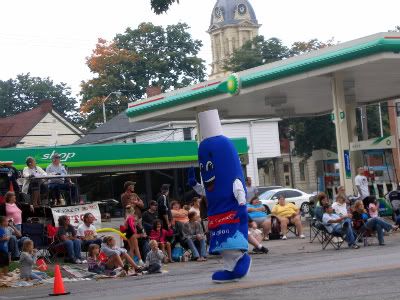 Nothing says "Let's celebrate trade unions and workers" like a walking bottle of shampoo!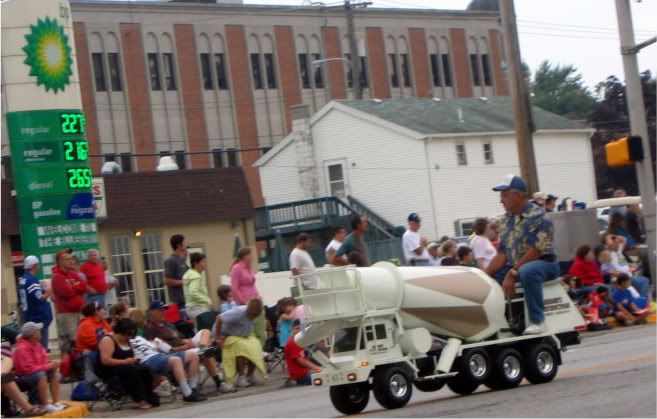 I'd say something snarky about this but the more I think about it, who wouldn't want to go cruise around on a mini cement mixer? I'd ride that bad boy to work!
Finally, this moose stuffed into the grill of a cargo van is a mascot. A mascot for a group of little baton twirlers, dressed up in the frilly little outfits, getting their chance to show off their baton skills in front of their parents and friends!
What name did they bestow on these cute little girls?
The Moose Squad.
And with that, I bid you a fond buh-bye!