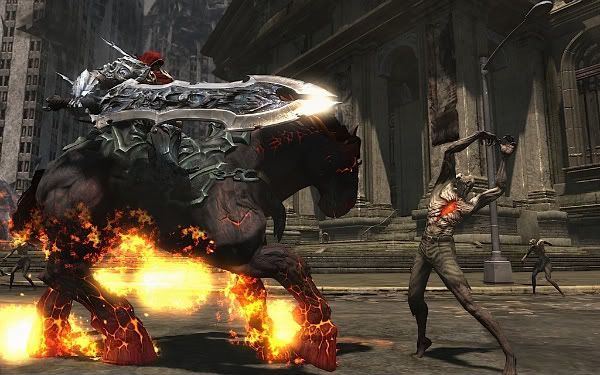 As you may have noticed, I've been quiet for the last week. There's a few reasons for that, the primary one being one hell of a cold that laid me low for a good three to four days! However, even though I'm fast approaching the far side of 'mid-30′s', I still find myself believing today what I believed when I was a kid; nothing makes a cold better like video games and a juice box! Luckily for me, my onset of the plague happened to coincide with the arrival of "Darksiders" from Vigil Games and helped to pass the time in between those moments that the fever rendered me unconcscious.
It's the end of days; angels and demons are falling to earth to wage their final war and bring the apocalypse upon mankind! Among them comes War, the Fourth Horseman who is tasked with bringing balance to Heaven and Hell in the end of days! The only problem is; once War arrives, he realizes that the other three horseman have not arrived. When he faces off against Abaddon, leader of Heavens forces, War learns that the Seventh Seal was never broken and Armageddon was never meant to start. Which means, something fishy is going on in the cosmic forces and War is tasked by the Charred Council to find out the answers!
I've said this a few times before; I love me some end of the world stories. Taking control of War, one of the Four Horsemen of the Apocolypse is a pretty natural fit! Though the story is farily basic throughout the game, there is enough of a carrot to keep you pressing on to hear the next step in the saga. It won't blow your mind, but it will entertain and that's what counts! Mix in level design and backdrops that are excellent in their crumbling humankind decay and it really is a good bit of fun. The story also sets up well for a sequel or two which given what we've seen so far, is a pretty exciting accomplishment.
The story and artwork aren't really the things that are going to trip your trigger here in "Darksiders" however. That nugget comes in the form of some flat out addictive and fun gameplay that will be hauntingly familiar to anyone who might call themselves a gamer. The thing is, "Darksiders" takes its gameplay directly from two stellar sources; you have the excellent dungeon crawling and puzzle solving of Zelda: Ocarina of Time mixed with the gory and meaty combat of God of War! So not only do you get a healthy dose of old school Zelda fun, you get the satisfaction of beating the crap out of giant demons as well. All tied up with a pretty little end of the world bow.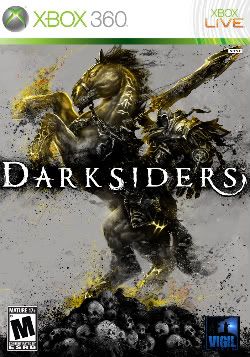 This potent combination manages to entice and hold attention and makes for a great game experience. You will see a reptetition in the monsters you battle with along the way, however they will be suitably scaled in dificulty as you march up through the ranks. As well, there are enough different common monsters models to help keep the combat from growing too terribly stale which is nice. The puzzle play early on is fairly basic as you would expect and grows in difficulty as you make your way through the world. There is never really a moment that the puzzles feel too brain breakingly hard, but they are still satisfying without feeling too basic. The difficulty does ramp up fairly high in the late stages of the game for the puzzles but combat does not scale quite as well which does manage to leave a few of your final battles feeling a bit over simplified. Regardless, with the package that you've traversed up until that point, you really don't mind because you're having so much fun.
The benefits of "Darksiders" far outweigh its shortcomings. The controls are solid enough when it counts, though there is room for improvement. When fighting giant demonic beasties who swing with their mighty oversized paws, it would be handy to have a quick and responsive dash button at hand to help avoid the carnage. While there is a dodge button available too you, it often feels a bit sluggish which throws off your attacks when trying to stay alive from time to time. Again, not a game breaker, but it does require some getting used to in order to over come the delay and in this game, dodging attacks is a pretty integral battle strategy. Beyond that, the controls for the additional Zelda-esque secondary weapons such as the 'Cross Blade' (Boomerang) work well enough.
In the end, I play a ton of XBox 360 games throughout the year. There's generally at least a rental involved for any given new release just to give you an idea. "Darksiders" however is the first game in a few months that has completely sucked in my attention to an almost obsessive degree. Often times I have the attention span of a gnat, other times I become so narrow focused on whatever game I'm playing my wife starts to wonder if I died back in the man cave or not. This is a time that she almost considered calling in the search party. Well, more realstically, she thought about just locking the door to the man cave, but still. The point is still the same! The game will hit you hard with its 'just one more' level design and the fights are fun enough to watch with War's over the top death animations to make you smile. All in all, this is a great game which I highly recommend you to play.