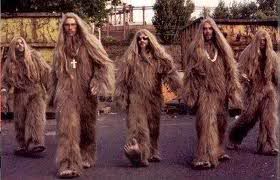 Hey all! Here's a quick reminder that we're still taking submissions for a new anthology put together by myself, Louis Fowler and Rod Lott!
The submission deadline was extended to mid August, so you still have plenty of time to wrap up your entries! We've got a good turn out of stories so far, so give us a scare!
Be sure to check out the details below!
NEW BIGFOOT PRINT ANTHOLOGY CALLS FOR SUBMISSIONS!

Bigfoot. Sasquatch. Skunkape. Whatever you call him, this cryptozoological American legend has entertained and befuddled us for generations. From grainy Zapruder-like film to family fare such as "Harry and the Hendersons", the Bigfoot is an ingrained part of our culture. And, now, we're gonna tell the other side of his story…the further adventures of Bigfoot!
Conceived in a fever pitch this past Horrorhound Weekend, Louis Fowler, editor of DAMAGED 2.0 and Casey Criswell, editor of "Cinema Fromage", are teaming up with Rod Lott at BOOKGASM for an as-yet-to-be-titled Bigfoot Anthology, to be published under the new "BOOKGASM PRESENTS" banner. And, as with any anthology worth it's salt, we need quality writers wanting to tell their own version of the Sasquatch myth!

Think that you've got an unique story to tell? We want it! Anyone can do a typical Bigfoot-scares-teen-campers tale…we want something different. Stories can put the creature in anytime or anyplace or any situation, as long as it is entertaining! Think your story is too "B-movie"? Chances are we'll like it even better. Think your "take" is too insane? We want to read it!
Short story submissions need to be at least 1500 words, but feel free to go longer to tell the story that you need to. Additionally, flash fiction of at least 250 words will also be considered, but, please tell a story.
NO POETRY.
All submissions should be sent as a .doc file, in 12 point Times New Roman font. No crazy fonts, please. Number all pages and please include name, mailing address, phone number and e-mail address in the top left corner of the first page.
For work accepted, authors will receive a complimentary copy of the anthology in which their work appears.

We will be accepting submissions from now until June 15th. Authors will be notified of acceptance shortly thereafter by email.

Send all submissions to damagedhearing@gmail.com with the subject "BIGFOOT SUBMISSION".
Thanks, and we look forward to seeing your stuff!