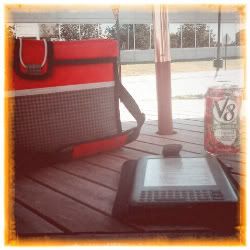 Here we stand, on the precipice of 'yet another month without a Cinema Fromage update' and all I can do is make excuses and apologize. Really, there is no excuse except for the fact that my brain grows muddled over stress, work and a lack of confidence in my own written word. None of that is nothing new for me yet this time, it cuts deeper and I find it near impossible to make myself take up the keyboard again, either in the critical fashion that I'm fond of here or even in the fictional faction that strive for on the side.
None the less, I'm sure I've lost most of the readers I may have claimed in the past by now, but I feel I must press on all the same. What better ways to break out of the mire of a creative funk that by forcing myself into piecing together a rough idea of a post?
What's happened in the past month that's kept things so busy? A few health concerns on the family front, for one. Thankfully, everybody involved is doing well so far and the good news from the doctors continues to roll in! Beyond that, I've been pouring myself into my reading something fierce. If you take a look at my Goodreads profile, I've knocked out a good six books in the last month. Lucky for me, every one of them has been a solid read! That standout however goes to Suzanne Collins "Hunger Games" trilogy which was pretty great, despite the third book being a fairly weak experience in my opinion.
On the movie front…there hasn't been a whole lot of movie watching going on. Instead, I play with my Spotify account exploring music I haven't listened to in ages and reading. That's not to say I haven't been to the movies. I enjoyed the "Fright Night" remake quite a bit and was completely blown away by the "Rise of the Planet of the Apes" prequel; enough so that I'm still on a massive "Apes" kick and planning a re-watch of all the originals here soon.
Sadly, on the writing front, things are stagnant and dare I say…dormant. A combination of rejections, lack of responses from submissions from upstart magazines and the fact that Fangoria has yet to run my story "Kingdom of Squalor" in their Weird Words contest has blown any confidence in story telling away. To put it simply; as soon as an idea takes shape, I convince myself it's crap before the first word is even started. It sucks. Maybe this is the first step of climbing back in the saddle.
In the meantime, back to wallowing in my own self-doubt and pity.