Hi folks! How are ya? Me? I've been lazy. Lazy on blogging at any rate. I've been pretty damn busy as far as podcasting goes.
---
First up, there's a new episode of 1951 Down Place out this week! This is our 3rd episode and let me tell ya…the feedback on this show as been overwhelming. Derek, Scott and I are all thrilled that folks are sharing our love of Hammer flicks.
In this episode, we're going into new territory for all of us as we talk about "The Hound of the Baskervilles"! Being a Sherlock fan and an even bigger Peter Cushing fan, you can imagine that this was a pretty fun episode all around.
---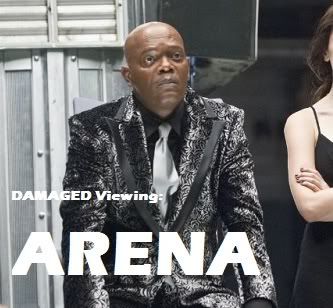 Next up, guest spot!
Also this week, I joined my good friend and favorite Republican Louis Fowler for an episode of Damaged Viewing! I love some cheesy action flicks and it doesn't get much better than Samuel L. Jackson cheesing it up in a direct to video flick. Louis and I had a blast, so hoping that you all enjoy it too!
If you *did* enjoy my spot on Damaged Viewing, a little birdie tells me I may be showing up on there more often. I'll let you know when it happens!
---
If you haven't heard, (and if you follow me on Twitter, there's no way you could miss it cause I talk about it incessantly) I've started a new Book Podcast! Hosted by Bloody Good Horror, the third episode just came out today! The show's growing great and I'm loving it quite a bit. This week, it's myself and Amy from Night of the Living Podcast talking about "Robopocalypse".
Like sci-fi and fantasy books? Check the show out. I'm rather proud of it.
---
There's a new episode of the Bloody Good Horror Podcast coming out this week too, it just hasn't hit the airwaves quite yet! Watch for it this weekend when we fill your ear-holes with some in-depth discussion on Darren Bousman's "11-11-11″. There's an episode on "Chillerama" going down sometime soon too, so watch for next week!
---
So there's some podcasting news for you for the week. There's not a lot of writing news but as you can see, I'm pretty busy! What can I say, maybe I've found a different calling! Regardless, I'd love to hear what you have to say about the shows, so be sure to drop me a line and let me know what you think!
And heck, while I've got your attention, I'll remind you to come join us in the Goodreads Discussion Group for Dad and his Weird Friends! If you want some fellow nerds to talk to about books? This is the place to do it!