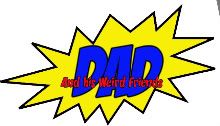 With the popularity of the Dad and his Weird Freinds Book Podcast on the rise, I've had a few people mention to me that they wished we had a message board or some place like that so people could hang out and talk about books. I tried something like that on Goodreads back when the show first started, but it wasn't easy to find and kind of clunky in general. I.e. It never took off! So, I'm hoping the integration and ease of use (and access to most people) of a Facebook group helps to bridge the gap. So….
I introduce you to the Dad and his Weird Friends Book Club on Facebook! Follow the handy link there or just search for "Dad and his Weird Friends' in groups and you'll be all set. Per the tag I put on the group:
This is the online home for the Dad and his Weird Friends Podcast! This group is not just for discussing the episodes or the books discussed in the episodes! This group is for geeking out on books in general! Like to read? Like sci-fi, fantasy, horror and books in general? This is the place to talk about it!
So again…it's not just for talking about the show….it's just for talking about the love of books, reading, comics and all that good stuff. Come join, play nice, have fun!