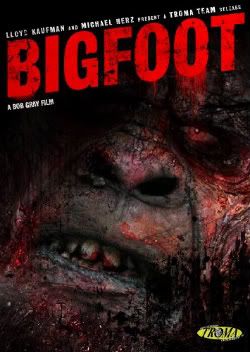 Troma has a long history of picking up indie movies for distribution. It's a good service for the indie movie world. The've released a ton of movies we've never heard of from film makers we might never have met otherwise. Over the years, this has resulted in a few hits, quite a few misses and a few movies I'm still scratching my head over. In the case of their recent release of Bob Gray's "Bigfoot", they're swinging for the fences, but knocking out windshields in the parking lot behind home plate.
The opening twenty minuts of "Bigfoot" are misleading. Other than a nice throw back opening with cute animals and our first glimpse of Bigfoot himself, we don't really see anything happen for nearly twenty five minutes. As a matter of fact, this first act felt oddly like an after school special. Corny dialogue, odd hints at some underlying morale, bad music and a watered down love at first sight side bar…for a moment there I forgot I was wathcing a bigfoot movie. You would think that all of this would combine to make for some really horrible cinema; it actually brings a bit of campy charm that feels like its just subtle enough to be hilarious. Great in small doses for sure. They never really get away from this tone though and it begins to feel like a chore by around the thirty minute mark. Let's be honest with our selves here; we're not watching this disk for a deep story, we're here to watch bigfoot tear shit up.
Eventually we get around to bringing the true star of the show to the fore front. For makeup, the film makers were actually spot on with their ape man costume. I've seen a lot of poor attempts at a bigfoot getup, (See: Shriek of the Mutilated) but Bob Gray's version of the mythical beast of lore is actually pretty great. He's rugged and weathered, definitley scary if you ran into him in a dark woods. Until you see him move. It's then that we see him for what he really is; a man in a suit. A man in a suit who appears to be dancing softly in the high beams of your headlights. When not dancing, he's attacking the local wildlife and eventually the humans populating the town of Morton. When he does this, there is no great flurry of action or a large splatter of blood and guts. There's simply a shot of the sasquatch, a human screaming a bit, and guts laid out on the ground. It could have been so much better.
I'm a big supporter of low-budget film making; there's a lot of good movies to be found out there in the genre. In the case of "Bigfoot", there are a lot of decent elements at play here, but it feels like the ideas are given too much play. There are many scenes througout the movie that are cut too long. When Jack Sullivan hears the policeman on PA from the street, he turns to look for the source of the voice. That's great. We don't really need to watch the car slowly roll down the entire length of the driveway as Jack watches on. It's moments like these that pull "Bigfoot" down and makes the movie a slog by the time we hit the final act. Sure, the plot is pretty straight forward and a bit hokey, but it's solid enough for what they're aiming for. The acting is pretty hammy and a bit stilted, but it's good for the genre. As a matter of fact, Bob Gray as the town Sherriff is downright likeable! Unfotunately, it's just not a very fun movie to watch. There is little to no chaos and violence.
Outside of a few good laughs and some over the top science cheese in an effort to explain Mr. Foot, "Bigfoot" is slow and overlong where it should have been jam packed with gore and action. Keep all your sub-plots and love interests; they work! Just thin them out and give the film a good bit of editing and a monster that is pissed off and violent. Not a hairy middle aged man on a long stroll in the woods.