The Xbox world has been graced with a bunch of new titles as of late. For the consummate gamer, it's been a good time! I was recently disappointed by the length of Lucas Arts' latest Force Unleashed venture so my take on the latest slate of games was a bit bleak. Thankfully, Namco came out with Enslaved: Odyssey to the West which promised a lot of platforming combat and got the message boards talking. Being a big fan of blindly bashing stuff and climbing walls in new and interesting ways in my video games, I decided to give it a shot.
To dive straight in here, Enslaved is pretty great all around. The graphics and environments are top notch. The combat can be a bit repetitive over time but at it's base, it's solid so that makes it pretty decent. The platforming portion is good; it's varied and mixes in a lot of well thought out puzzles to work through. There's two pieces that make this game good though; the story and the motion capture used to bring our main characters Monkey and Trip to life.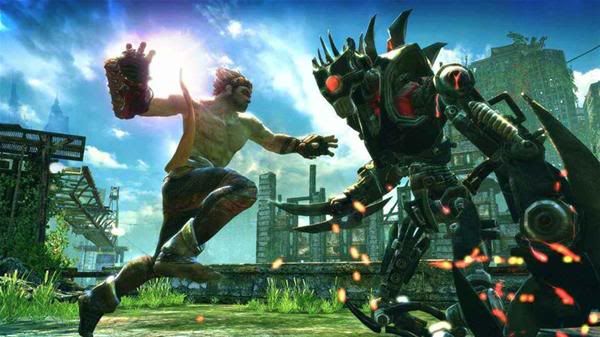 You all remember
Andy Serkis
right? The guy that brought Gollum to life and has proven himself to be a master of the motion capture arts? Well, he's at it again as the man of the hour, Monkey. Everything from facial expressions to body movements are top notch and help to pull you in. Joining him his
Lindsey Shaw
as Trip. If you have young ones in your house, you may recognize Ms. Shaw from "Ned's Declassified School Survival Guide". If you don't have kids, you may not know her so well. She does a great job though as trip!
As for the story, Enslaved throws us into a post apocalyptic future where we join Monkey and Trip as they try and escape from a slave ship. Based loosely on the Chinese novel "Journey to the West", this disastrous setting is our own. The game opens in the overgrown wastes of New York City. Trip wants to get home to her father who is over three hundred miles away. Knowing she can't make the trip on her own, she slips a slave control band on an unconscious Monkey and forces her to help him home. The character dynamics between Serkis and Shaw are top notch. You'll find yourself feeling sorry for the two as you play along. You'll even find yourself laughing quite a bit too. It's not all heavy handed drama here.
As for game play, we spend the entirety of the game as Monkey helping Trip to get home. The two work together to solve various puzzles and make their way through the ruins of the city. Throwing in the concept of using two characters to make their way through the game is a nice change to the standard run and gun or 'parkour' antics of other games. Large parts of it are pretty straight forward but you will spend quite a bit of time sitting back to think your way through a given situation.
While nothing earth shattering, Enslaved: Odyssey to the West is a solid single player game that will scratch quite a few itches. You'll have some thinking to do, a story to enjoy and some bots to beat the crap out of. What more do you need for your daily dosage of escapism?