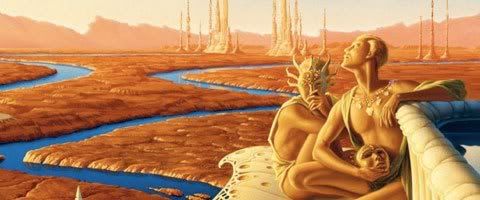 Make no bones about it; I'm a sci-fi geek. Was this once a horror blog? Why yes it was! Deep my heartiest of hearts lies a fascination with the far flung reaches of outer space, the manifest destiny of colonizing new worlds and frankly, a wish to be there in the cold expanses of a new world. I'm not saying I'm geekier than though; I'm just saying a love great science fiction. Luckily for me, Ray Bradbury's been pumping out great sci-fi for decades!
All that said, I've always been woefully lax in my Bradbury reading. There was no particular reason for doing so beyond perhaps a simple case of "that book is old and this book is shiny and new!" I was also a diehard devotee of Robert Heinlein too. Do the two schools clash? No, not at all. It's just that I spent all of my reading time on everything Heinlein and didn't leave much room for Ray. These days, I've been reading like a fiend as I try and fuel my own writing career and prime the pump with ideas and I came across an old copy of "The Martian Chronicles" that I've had for nearly twenty years. As you can see at the top of the post, the cover had a wonderful oil painting that filled the mind instantly with wonder and fantasy. I looked over for that cover for a bit and came across an opening in my reading list. The book looked thin leading me to believe it would be a quick read so I figured it was time. Two days later, I found that the book was indeed a quick read. I would have never guessed that it would have affected myself and my imagination in such a profound way.
A collection of short stories, "The Martian Chronicles" is not told in the typical narrative structure that you would expect in a science fiction novel. Instead, we are given snapshots throughout the history of Mars and Earth's explosive growth throughout the years that pass. At times the stories are goofy in that classic science fiction sense with quirky natives with absurd reactions. Where the magic happens is when you transition into the next chapter, Bradbury's tale takes a solemn turn, highlighting the shortcomings of both a human, and Martian race. As a whole, "Chronicles" runs a full gamut of emotions within its pages. The sense of exploration is thick; an excitement for the dream of wealth and prosperity in a new land is infection. As you bask in the adventurous spirit, Bradbury will then turn the horizon bleak with ramifications that will effect generations and all, tying back as a reflection upon our own selves.
Bradbury is a poignant man. He is an author that has his finger on the pulse of the world with a distinct warning for all of us for one possible future out of many. What he does not do is preach. Instead he entertains with gripping tales and paints a magical landscape that we wander through over the decades, a landscape filled with hot sun and dry Martian deserts, elegant cities the relics of an ancient race. Therein lies the key; "The Martian Chronicles" does not focus on the lives of any particular sets of characters. Instead, the focus is the Martian world itself, and the lives it influences.
If I haven't conveyed the fact above, in a scant two days, "The Martian Chronicles" has landed itself solidly in one of my favorite books of all time. It's a feeling that's hard to describe as it's a state of mind that a story leaves you in one you turn that last page. Many books are enjoyable, many are hard to put down. It's a scant few that manages to transport you from your mundane living room to harsh red planet and leaves feeling emotionally spent as you pass through its annals of history.
Thanks Mr. Bradbury, that was truly a great adventure.