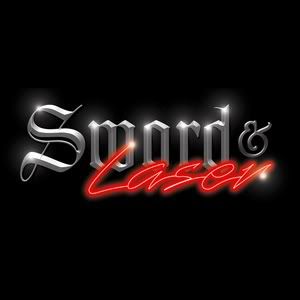 I'm not just a podcaster, I'm a listener too! That sounds pretty 'infomercial-ish' doesn't it? That's okay. In addition recording three shows, I listen to quite a few as well, dedicated to any number of subjects. As you can imagine, a big podcast topic for myself is books. Enter the Sword and Laser Podcast!
Hosted by Veronica Belmont and Tom Merritt, S&L puts out a new episode near weekly, chock full of book news, book discussion and more. Being familiar with Veronica Belmont from her days on TekZilla and Revision3, it was initially her name that drew me in. It was the ease that her and Tom worked together and the good discussions and handy info that kept me around. My favorite part of S&L has to be their calendar and new segments. Genre book news can be scattered all over the internet depending on their publishers and Veronica and Tom do a good job of pulling all the interesting stuff together. Their book discussions as great, but as of late their reading books I haven't gotten to as of yet, so I tend to gloss over those.
In addition to a great podcast, they have a thriving Goodreads Community with a lot of good discussion threads as well. I've found a lot of information on book releases and recommendations from those boards alone.
For a moment of fawning fanboyism, you could say that Veronica & Tom's work on Sword and Laser is what inspired me to start Dad and his Weird Friends. Enjoying their fun of being able to geek out on a good book, I figured I wanted to do the same! And since they already had a great formula, I tried hard to come up with a concept that complimented that as opposed to borrowed from it.
The Sword and Laser Podcast. If you like the books we've been covering on Dad and his Weird Friends, you'll like this one too.