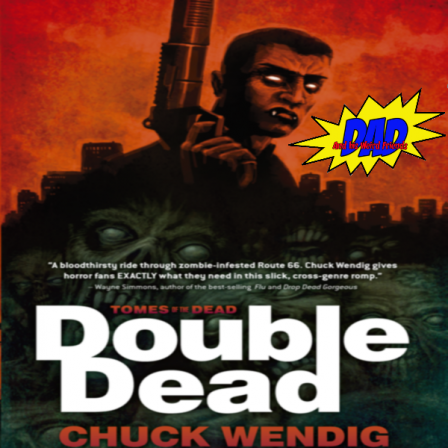 We're back once again over here at the Weird Friends podcast with a whole new episode! This time around, we go with some fairly light horror fare with Chuck Wendig's "Double Dead"!
This book was a pleasant surprise for myself. I have a good friend that I've traded books back and forth with for years. Said friend, Ak, hit me up awhile back with an article on Chuck Wending stating that he had been hearing quite a bit of buzz on him and the plots of his existing books grabbed me fairly quick! I've read a lot of zombie novels here as of late and while I do enjoy them, they tend to get a bit too heavy and in some cases, a bit too repetitive. Wendig's version of the undead apocalypse was a nice change of pace that moved quick and wasn't too heavy with ennui, melancholy, and stoic rambling.
Wending has some other books that look really good too, Blackbirds and Mockingbird. Both of these have catapulted up to the top of my to-read pile after reading "Double Dead", so should be cool!
As always, the Dad and his Weird Friends show can be found on Bloody Good Horror Feed and iTunes! Give us a listen, let us know what you think! Feedback is welcome and encouraged, send your missives to casey@bloodygoodhorror.com!
Finally, come join us in the Dad and his Weird Friends Book Club on Facebook! We like to talk about books and if that's your thing, we'd love to have you with us. It's been a bit slow here lately, but that's because we don't have you there to help spice things up!