This pas weekend found me back home in the northern climbs of Plymouth, IN for a wedding. I was faced with some time to myself in the morning ours and some nice mid 70 degree temps, so it seemed like it was the perfect time for a run. I had setout to see how far I could go, perhaps I'd push on for a full hour long run. Turns out, thanks to the rest day on Friday, the nice temps and the stellar scenic trails added by the Plymouth Parks Department, I managed a whopping
4.2 mile run
!
Up until this point, my running has been contained solely to my subdivision. We do have some trails to run on there, but they're all in open fields and there simply isn't much as far as wooded areas go. Being able to hit these trails in the Plymouth Park was a nice change of pace. They were well wooded, which meant cool and shady. It was just comfortable to run in! It was rather scenic as well, being able to see things like the passing Yellow River, the high banks on the far side (including the spot where my best friend Rick used to take his dates to see his 'deck'!)(Really, it was a deck overlooking the river!) which was a drastic change to flat soccer fields and over grown 'nature areas' at home.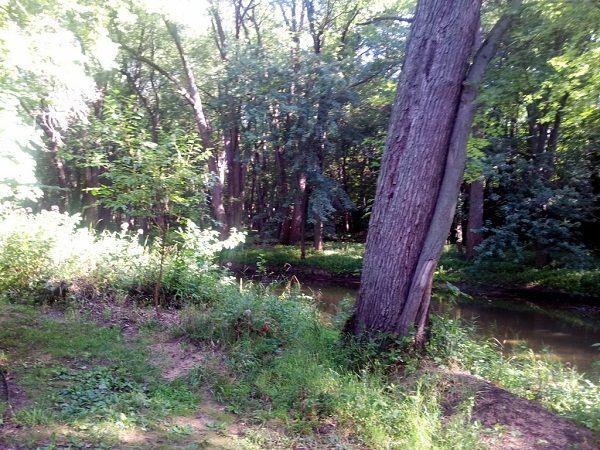 Though I didn't get to hit very much in the way of actual dirt packed single track type trails, there were some and I made sure to give them a visit. I've been a (lax) hiker for many years and really love to do some long day hikes here and there. I've never tried actual trail running though. Being able to hit the few dirt trails at the park awakened me to the idea and it's take hold like a tick! There's just something zen like about coursing through a tight back trail, trees encroaching close to either side, the smell of dirt and nature as you inhale fresh air deep into your lungs! This is something I definitely plan on doing more of; I'm feeling a strong pull to go off road. I definitely have to start planning some trail exercursions for this fall when the temperatures start to get comfortable. It also makes a great excuse to do a bit of camping this fall, which will thrill my wife for sure. (Not sarcastic! She's been itching to go camping!)
So, the visit back home was a good. It was great seeing family I haven't seen in some time and it was great hearing 'holy crap, you HAVE lost a ton of weight!' repeatedly throughout the weekend. Being able to 4.2 miles for the first time was definitley a highlight however. I was able to follow up this long haul with a short
1.5 mile run on Sunday afternoon
and then backup to my standard
3.11 miles this morning
, so it didn't even break me. How about that?